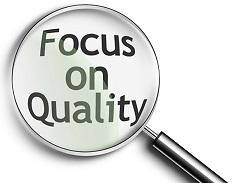 The original basis for Quality Assurance (QA) and Quality Control (QC) processes used in software development were corollary process used in the manufacturing world. However, manufacturing processes don't translate quite so well to the software world because manufactured products are discrete physical objects that can be seen and easily measured, weighed or otherwise quantified. Software products on the other hand are not physical and it can be more difficult to quantify things and verify proper functionality.
Strictly speaking QA and QC are not the same thing. Borrowing from the manufacturing definitions, QA refers to the practice of ensuring that established processes and guidelines are being followed, whereas QC refer to the practice of validating that the product being produced function properly and/or fall within acceptable tolerancea for measured properties. While some organizations separate these practices in the same way for software, in most cases the term QA is used to refer to the manufacturing equivalent of QC. So, for our purposes, Quality Assurance refers to the practice of validating a piece of software against the established requirements for it.
At SwitchLane, we use typical QA processes as part of our custom development projects. We also provide QA consults in a staff augmentation capacity to our clients as well. The tabs below discuss some of the standard types of testing that we do.