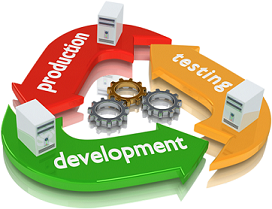 SwitchLane was founded by people with extensive application development backgrounds and building solutions for our clients has always been a core part of our business. We can take ownership of the entire Software Development Life Cycle (SDLC) for you and handle everything from requirements definition through design, development, testing and deployment. If you don't need all of that, we're also happy to supplement your team for only certain phases of the SDLC. While we prefer to use Agile processes when the choice is ours, we can adapt to your established processes as well when integrating with your IT team.
In addition to process flexibility, we also have location flexibility. Depending on your preferences, we can assemble a team to work onsite in your offices, to work remotely within the US or to work out of our Indian office in an offshore mode. "Offshore" is a term that sometimes scares people because they have had or heard about bad experiences that were intended to save money but resulted in poor quality. Our executives have experienced the same thing in prior jobs, but have learned tremendously from these experiences. At SwitchLane, we make sure that you have a strong leader assigned to your team who has good communication skills and who understands the cultural differences between the US and other countries, two things that can cause a project to fail if not handled properly. Our customer testimonials speak volumes to the success we have had through this approach.
Our team has established skills in a number of different technologies and our network of partners extends these capabilities even further. To learn more about the types of custom development work we do, please click through the tabs below.